IMPACT
REPORT
2018-19
Dear Making Waves Community,
As the new CEO of Making Waves Foundation, I am pleased to welcome you to our Fiscal Year 2018-19 Impact Report. This report showcases our work to advance 21st century teaching and learning for students by building a state-of-the-art expanded campus for Making Waves Academy (a high-performing public charter school), the outcomes of CAP, our college success program that helps students graduate on time with minimal debt, and a few of the student and alumni stories that inspire us every day.
I started my career as a Teach for America (TFA) teacher at a public school in South Central LA serving all low-income students of color. What I first observed in this classroom—and what I have seen throughout my career in education, including 11 years at TFA—is that we desperately need a system that supports kids every step of the way so they do not fall through the cracks and so they do persist to college graduation.
Enter Making Waves. When I first learned about this organization, I was inspired by John H. Scully's founding vision: Making Waves was one of the first to execute a "to and through college" approach. Now celebrating its 30th anniversary, Making Waves Foundation has grown to support nearly 2,000 students annually from fifth grade through college graduation and beyond.
The inequity in our education system is a national crisis. We know that a different reality is possible, though, because we have been creating that reality for the last 30 years. It is my honor to serve as CEO of an organization with such an amazing mission.
Thank you for supporting our work to inspire college futures.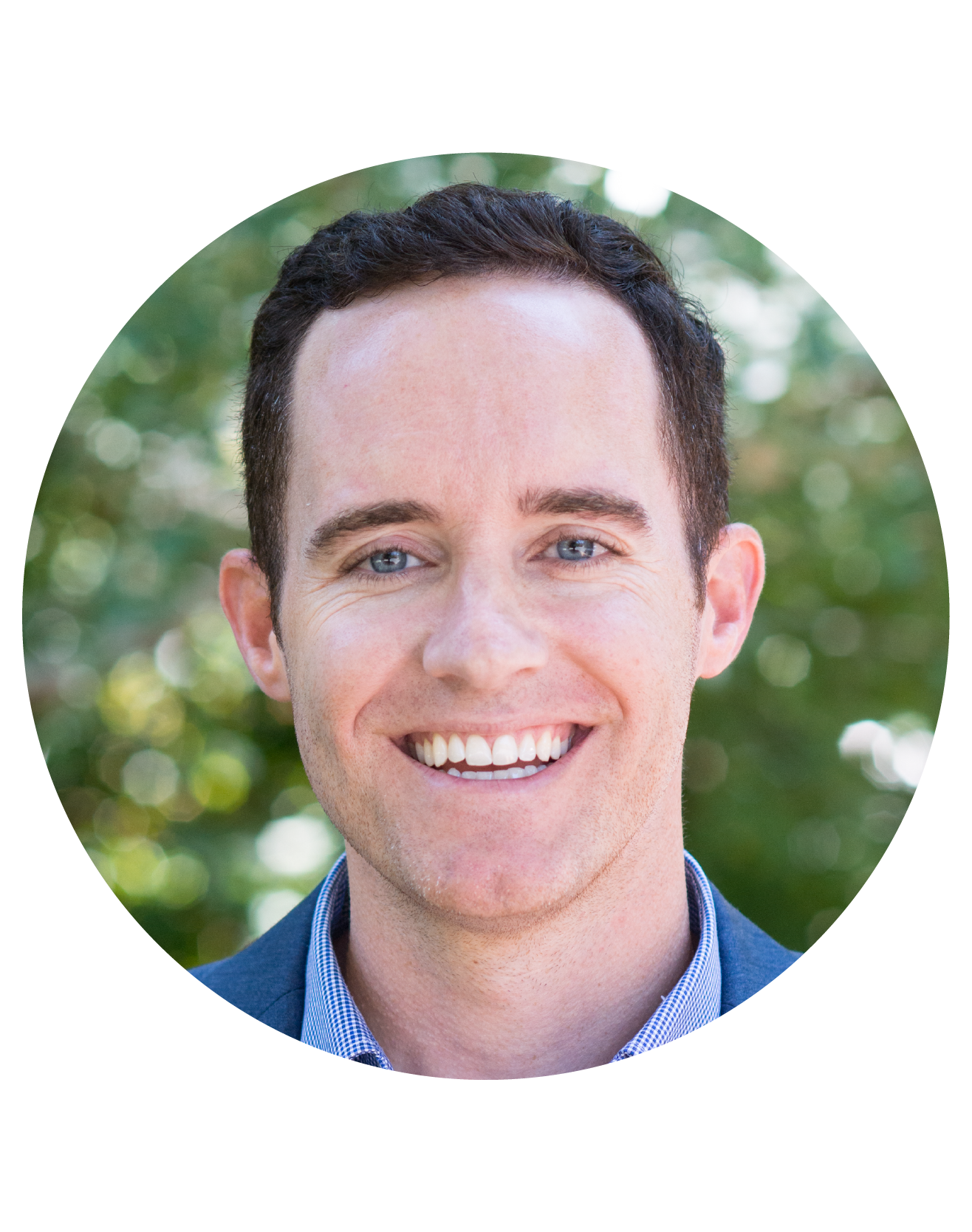 Patrick O'Donnell
Chief Executive Officer
Making Waves Foundation

2019 marks the 30th anniversary of Making Waves inspiring college futures for Bay Area youth. In 1989, John H. Scully and Reverend Eugene Farlough established the Making Waves Education Program (MWEP), an afterschool tutoring program that supported 46 underserved students in Richmond on their path to college. Ms. Shirley Williams served as the first executive director. Today, Making Waves serves nearly 2,000 students at Making Waves Academy, a public charter school, and at CAP, a college success program that has supported nearly 300 students to graduate college. Throughout 2019, we are celebrating the many people—board of directors, staff, alumni, students, parents and guardians, funders, and community members—who have carried out Making Waves' mission. Commemorative works include our which describes Making Waves' evolution as told by organizational leaders and alumni.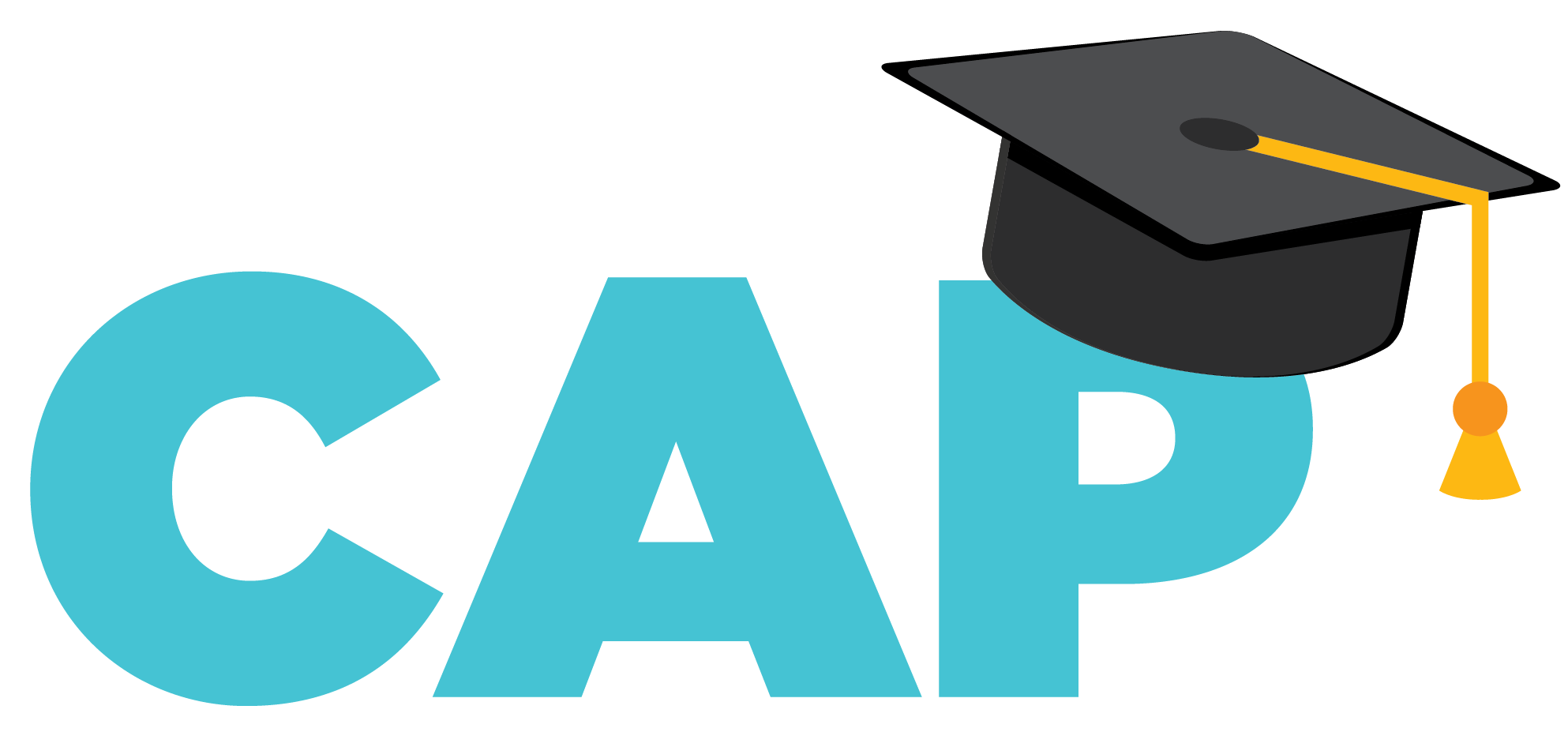 CAP commits to coaching our students to graduate from college as quickly and with as little debt as possible while equipping them with the skills and experiences needed to thrive in the global workforce. During their time in the CAP program, each Wave-Maker attends summer bridge workshops before their freshman year and then receives one-on-one coaching, financial literacy training, professional development, and need-based scholarships throughout their entire college experience.
This year, the first graduates of Making Waves Academy completed college. The 16 students from the 12th Wave who graduated college last spring and summer are the first alumni of the Making Waves Academy + CAP model, which takes students from 5th grade through college graduation. And while the national marker for college graduation is six years, these Wave-Makers accomplished this feat in just four-and-a-half years.
Hear from our 12th Wave College Graduates:
For up to six years, CAP's skilled staff deliver consistent support through a structured coaching model that focuses on the following key pillars of success: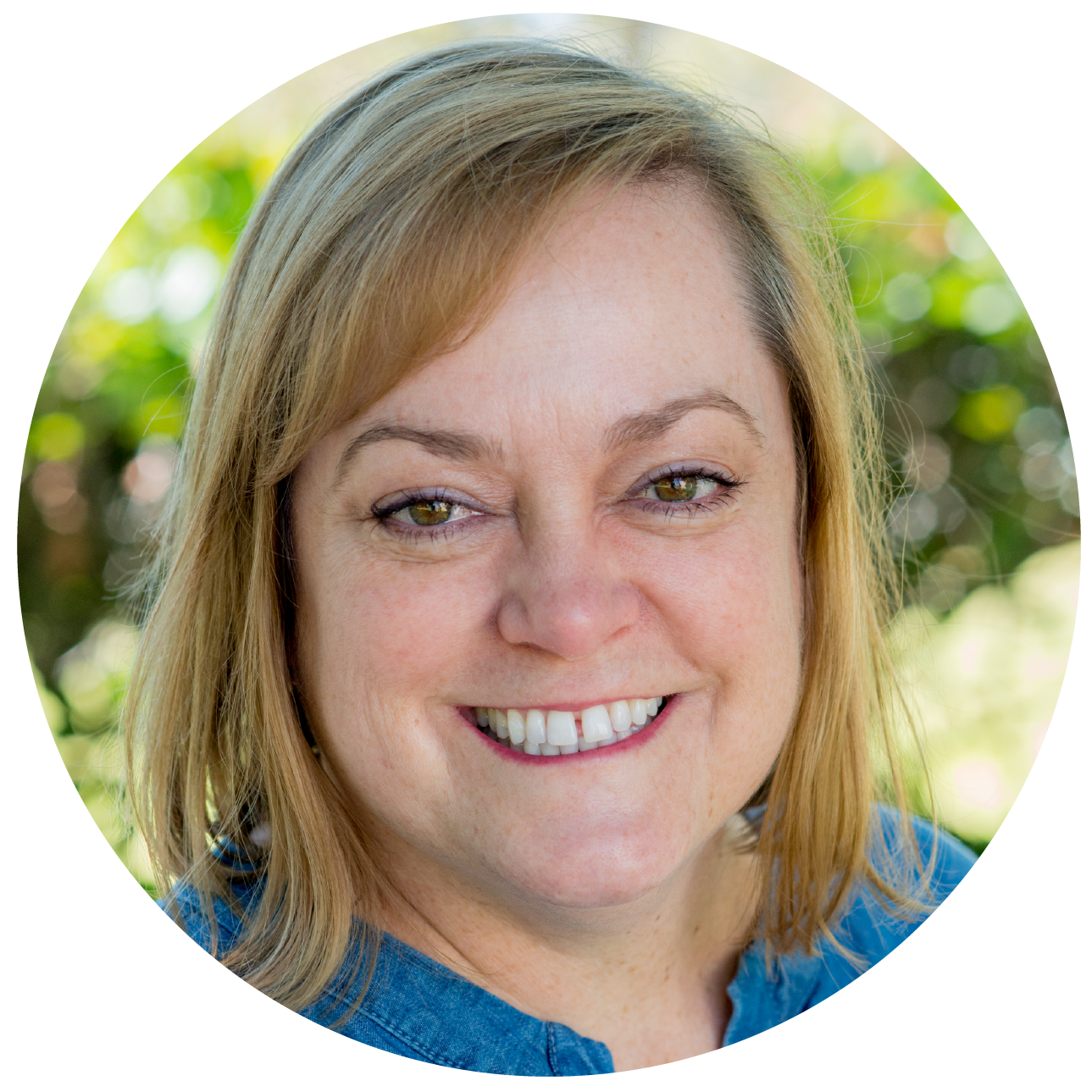 "With a relentless focus on minimizing student debt, hitting a four-year graduation pace, and preparing for life after college, CAP supports our students on their journey to success. Our students are incredible in their achievements despite having the deck stacked against them in so many ways."
---
Melissa Fries
Executive Director, CAP
Colleges that CAP students are attending this year: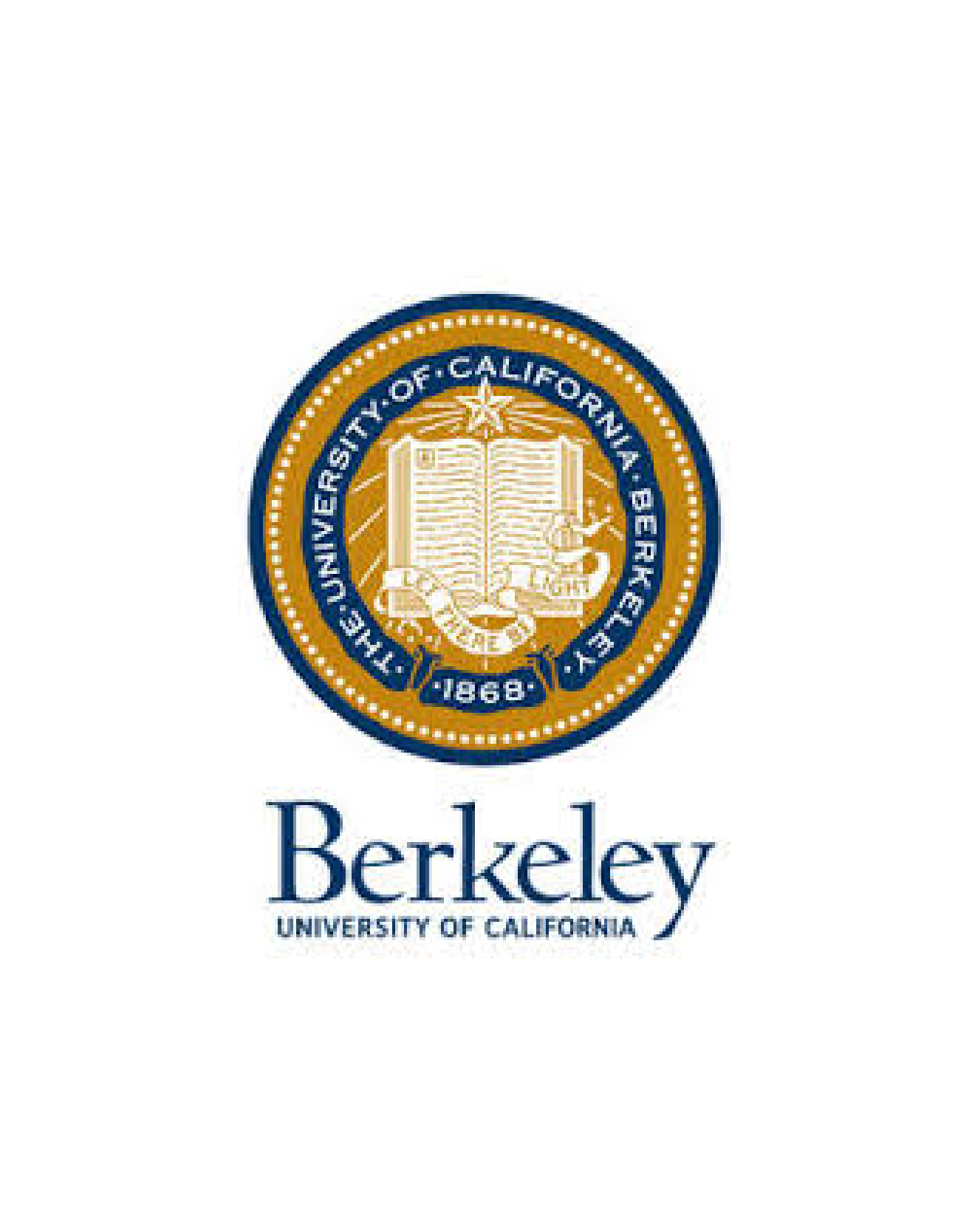 American University
Amherst College
Barnard College
Beloit College
Berkeley City College
Bowdoin College
Brown University
California College of the Arts
Chabot College
Chapman University
City College of San Francisco
College of Alameda
College of Marin
Contra Costa College
Cornell University
CSU Bakersfield
CSU Cal Poly Pomona
CSU Cal Poly San Luis Obispo
CSU Chico
CSU Dominguez Hills
CSU East Bay
CSU Fresno
CSU Fullerton
CSU Humboldt
CSU Los Angeles
CSU Monterey
CSU Northridge
CSU Sacramento
CSU San Diego
CSU San Francisco
CSU San Jose
CSU Sonoma
CSU Stanislaus
Diablo Valley College
Dominican University (CA)
Eastfield College
Grambling State University
Hampshire College
Harvard University
Holy Names University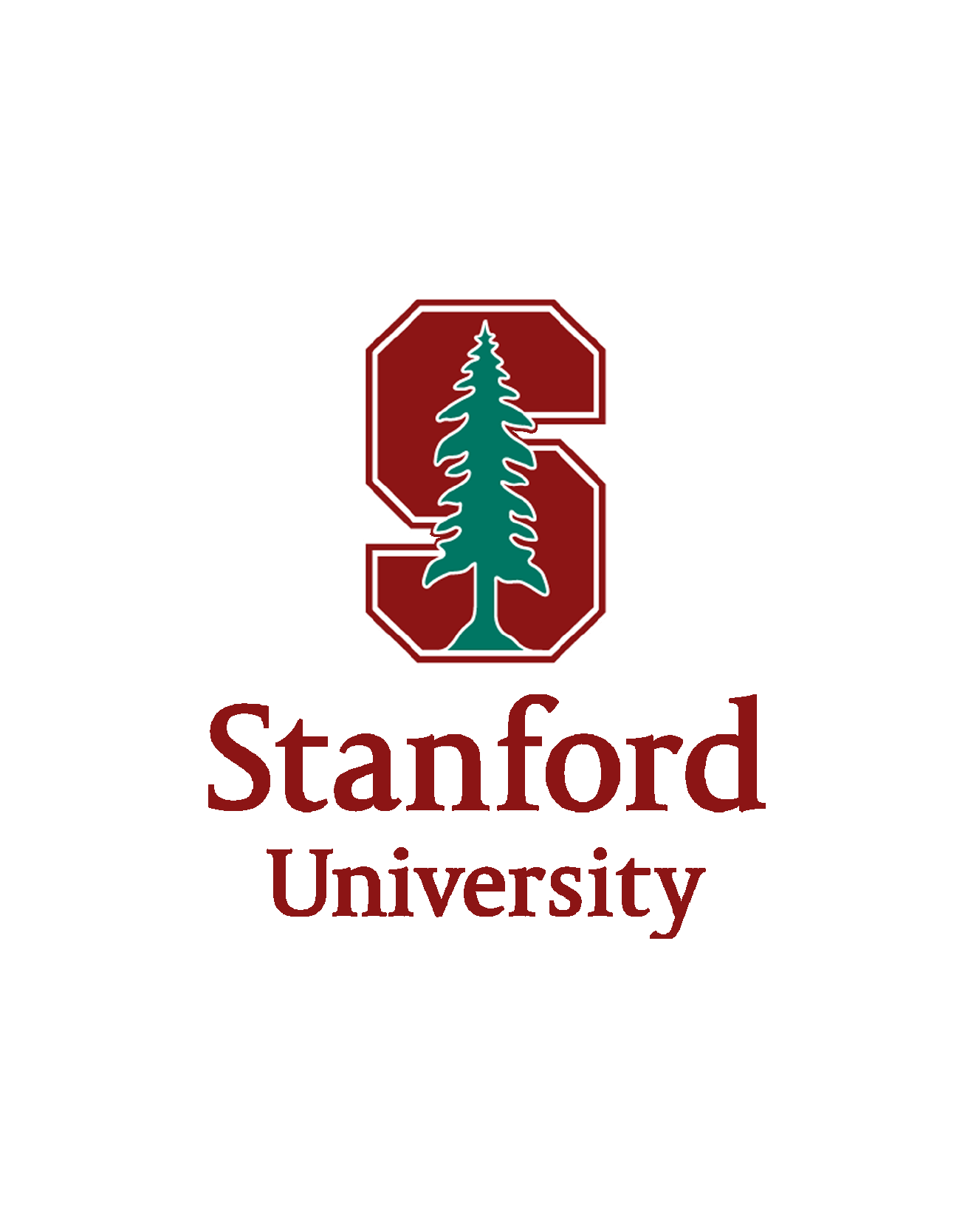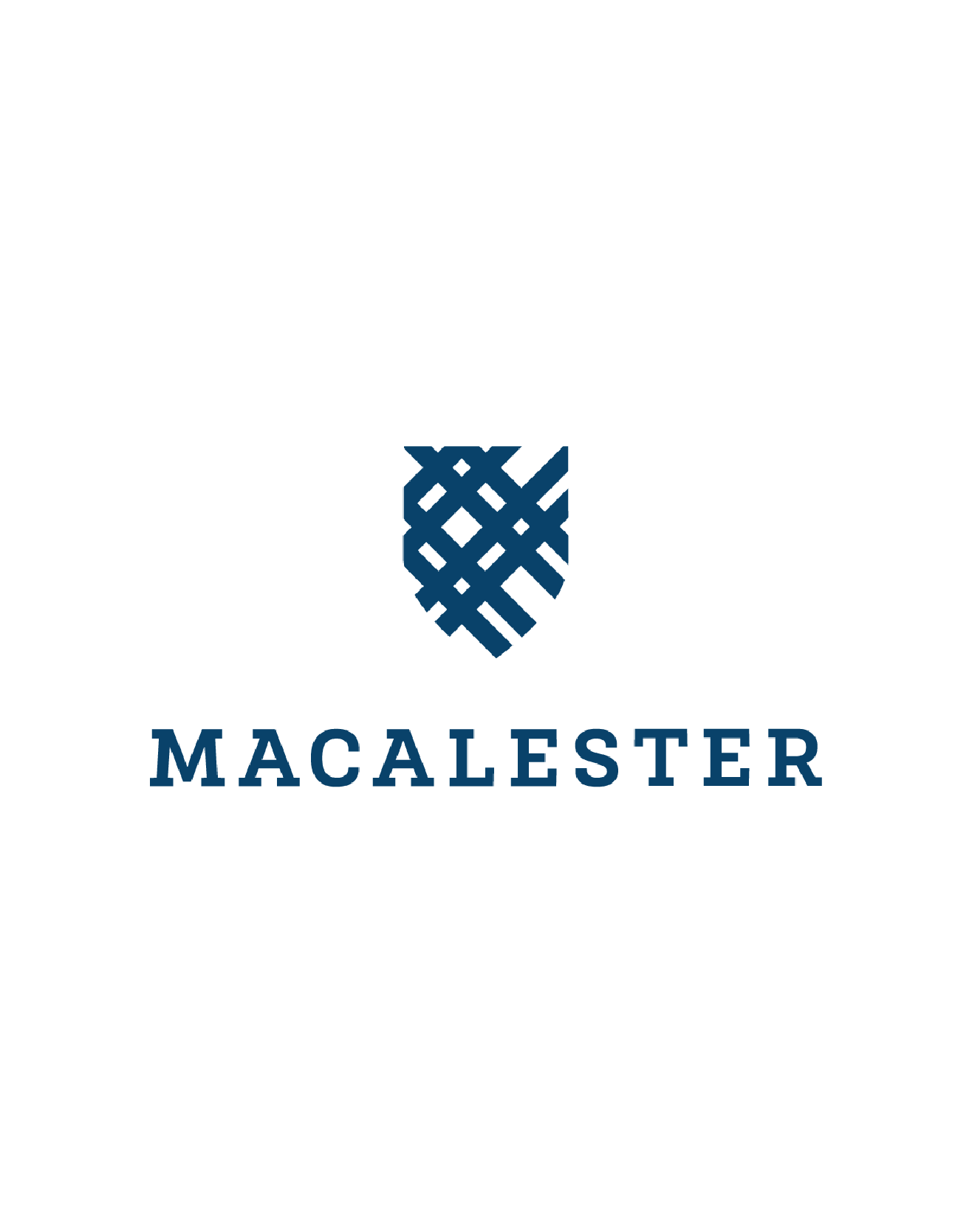 Howard University
Laney College
Linfield College
Loyola Marymount University
Macalester College
Merritt College
Middlebury College
Mills College
Northeastern University
Pitzer College
Prairie View A&M University
San Antonio College
Santa Clara University
Scripps College
St. Olaf College
Stanford University
Texas A&M University
UC Berkeley
UC Davis
UC Irvine
UCLA
UC Merced
UC Riverside
UC San Diego
UC Santa Barbara
UC Santa Cruz
University of Arizona
University of Chicago
University of Colorado: Colorado Springs
University of Nevada: Las Vegas
University of Pennsylvania
University of San Francisco
University of Utah
Ursinus College
USC
Vassar College
Wesleyan University
Willamette University
Xavier University of Louisiana
Yale University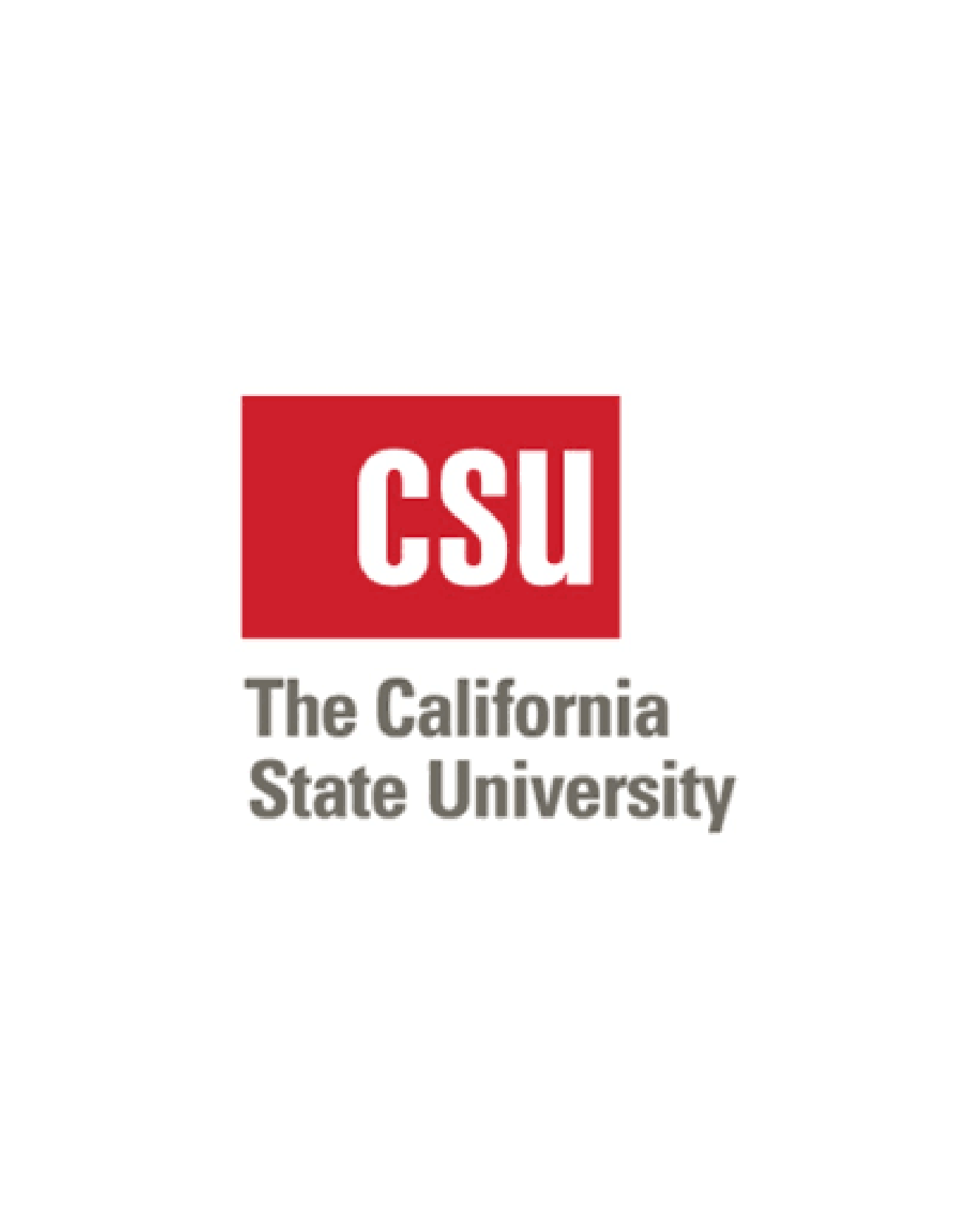 "One of the reasons why I was initially hesitant about attending a University of California campus was due to cost. I knew going to a prestigious school like UC Berkeley meant paying high program fees, tuition, and rent. CAP's scholarship definitely helped make me feel that college was more financially feasible. Overall, this scholarship has certainly shaped the person I am today. I am proud to say that I am more confident, resilient, and a bigger risk taker than before."
Sally, senior at University of California at Berkeley studying Business Administration
"College has given me the chance to learn more about myself and my passions. I now know that I like entrepreneurship and plan to one day create and run my own business. What I am most excited about is the fact that I was able to further extend my passion for technology and will be interning for a third time at Microsoft as a software engineer this upcoming summer [in 2019]. These accomplishments were only possible with the help of organizations like CAP."
Jorge, senior at Stanford University studying Engineering and Computer Science

Launching the CAP
College Success Institute
At the inaugural CAP College Success Institute in May 2019, more than 100 professionals gathered from across the nation—including Arkansas, California, Colorado, Washington DC, Hawaii, Minnesota, Mississippi, New Jersey, Oregon, and Texas—to discuss how to increase the college graduation rate of low-income and first-generation students. Representatives from community-based organizations, college and universities, K-12 schools, and foundations were in the room. The conference featured a broad range of keynote speakers and panelists including individuals from Princeton University, University of California, College Track, and Google.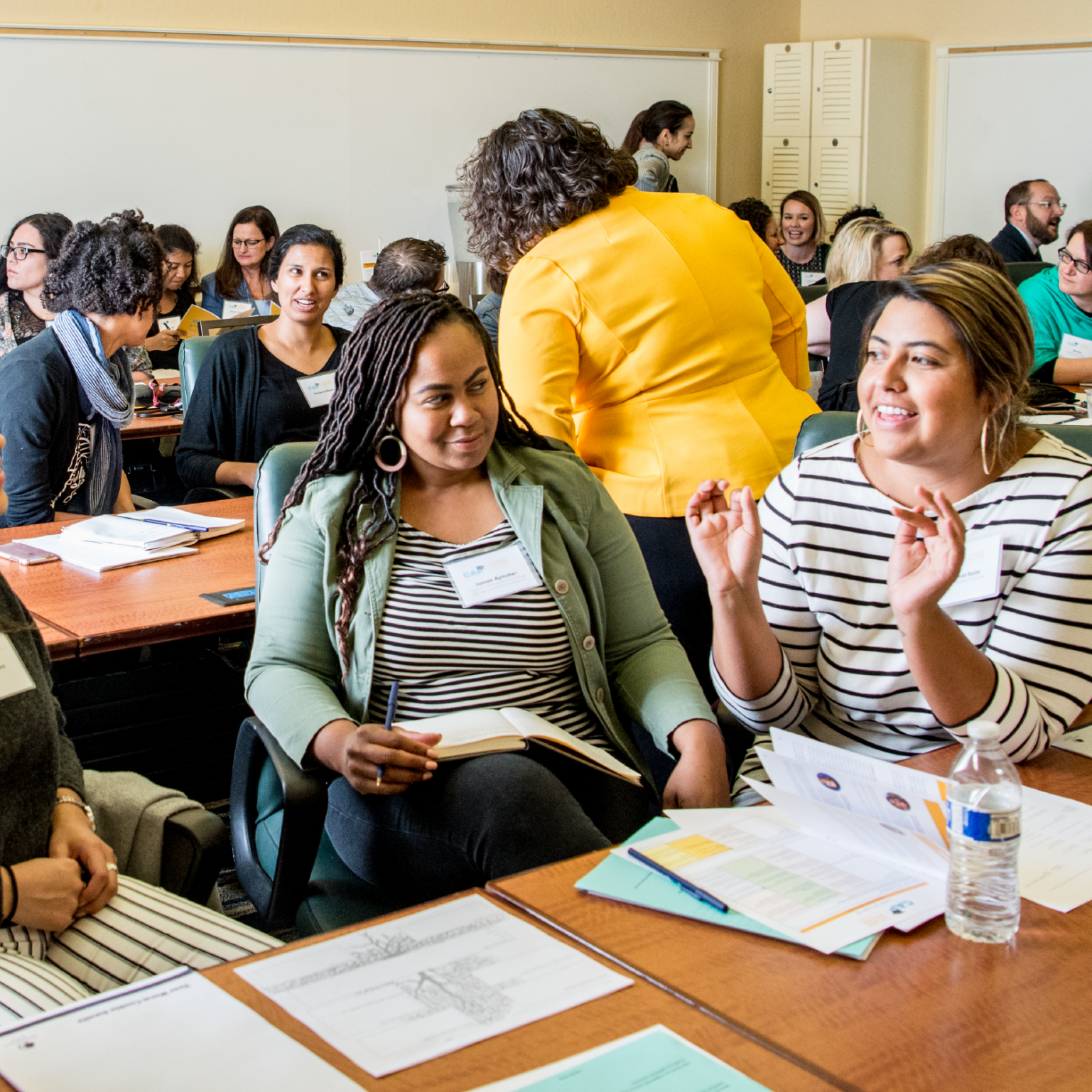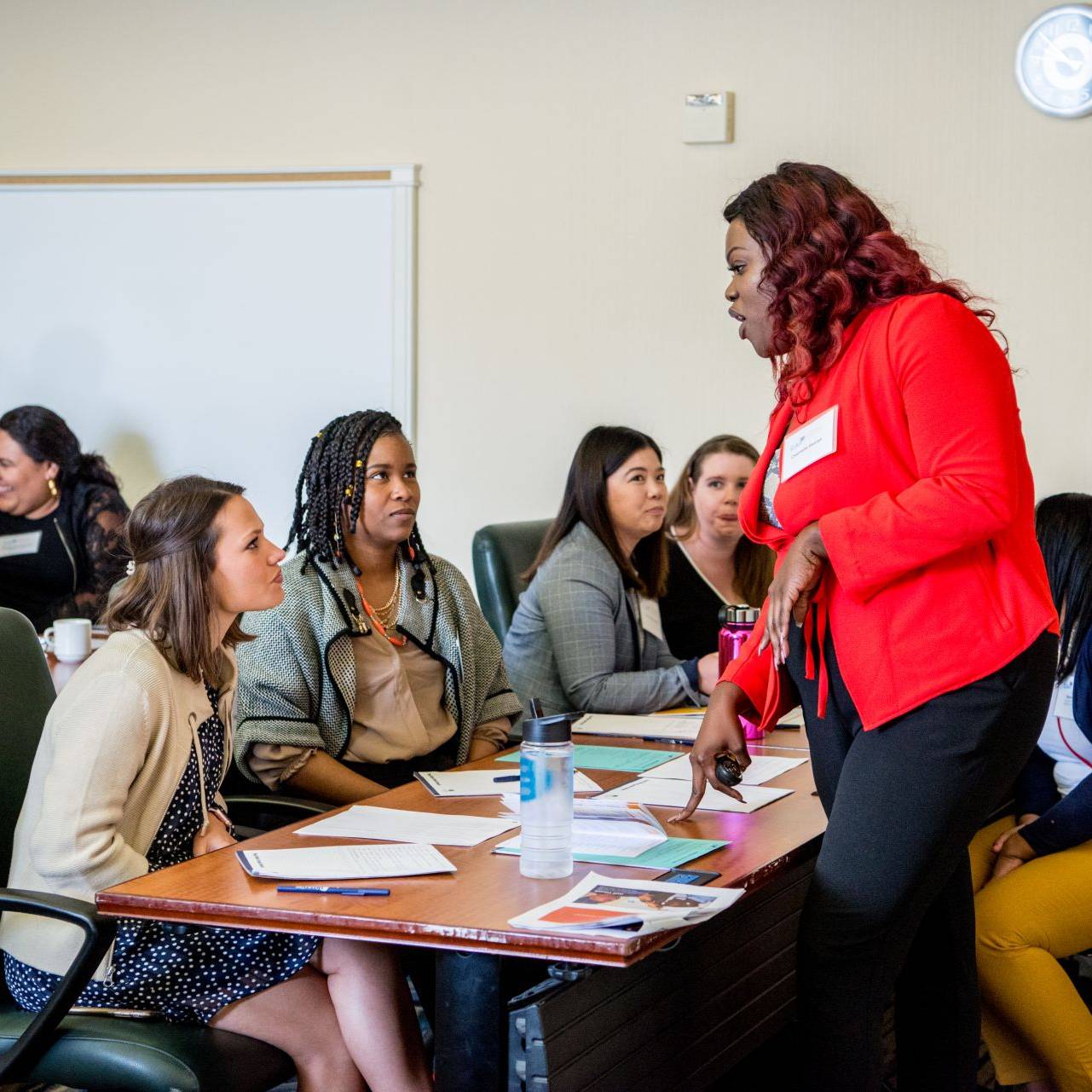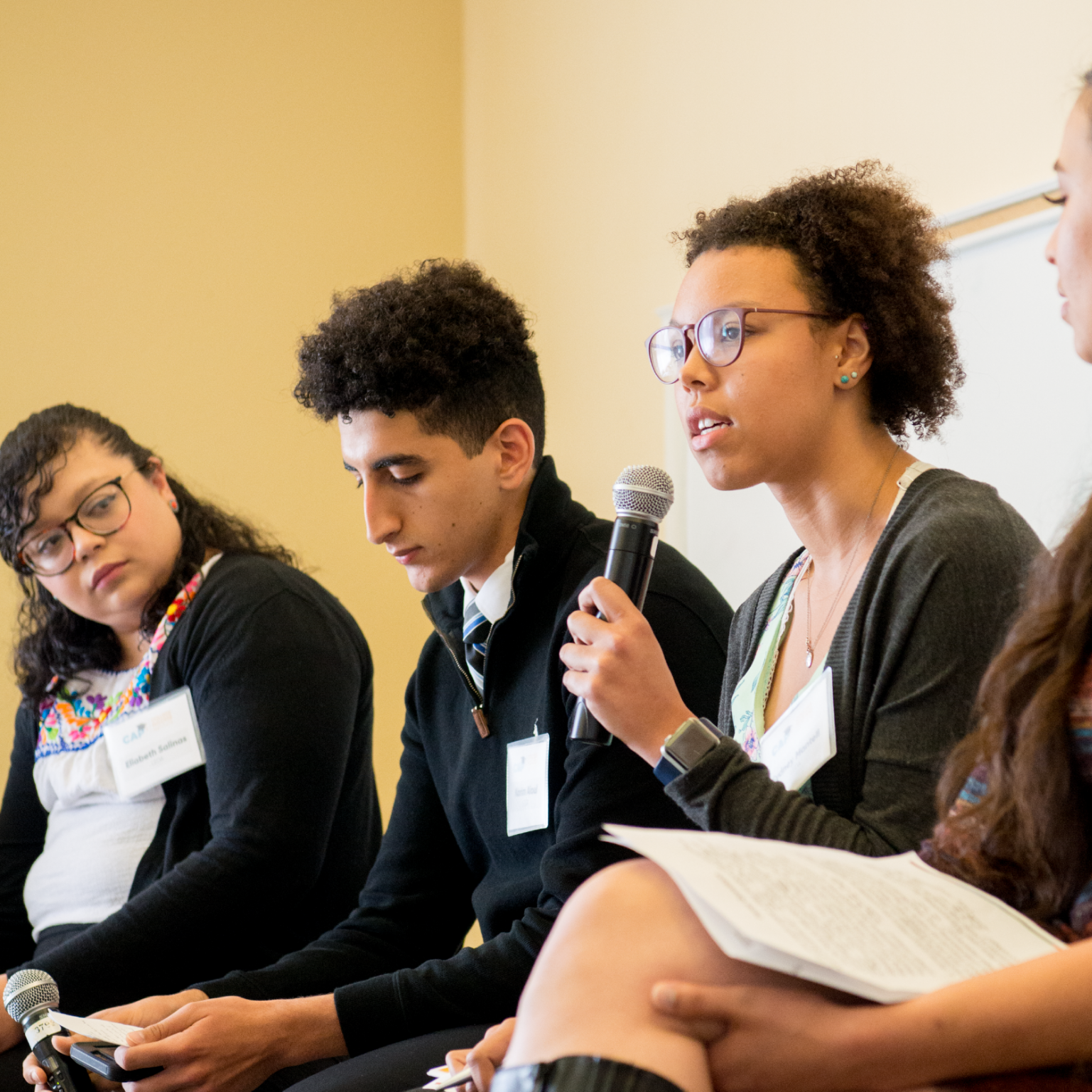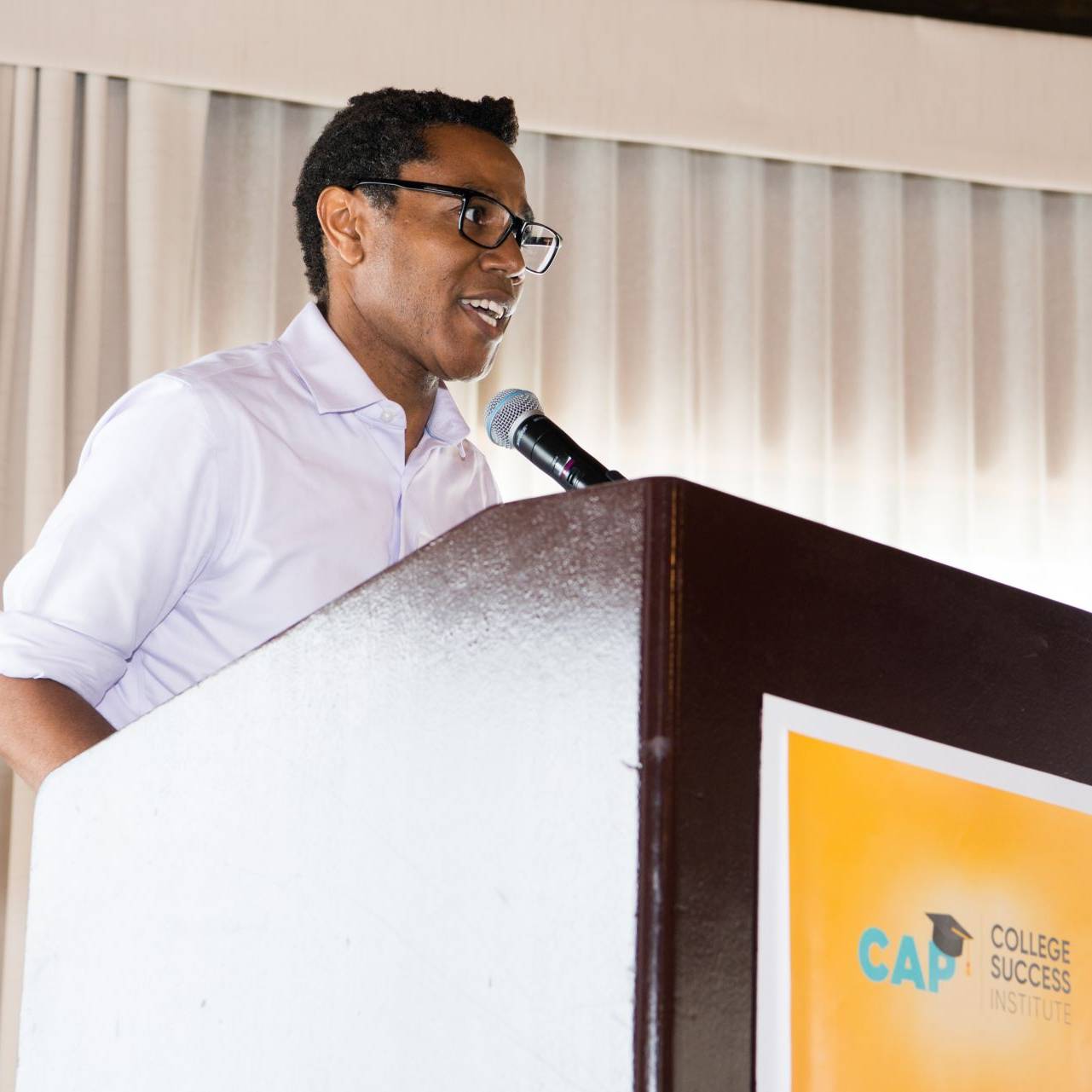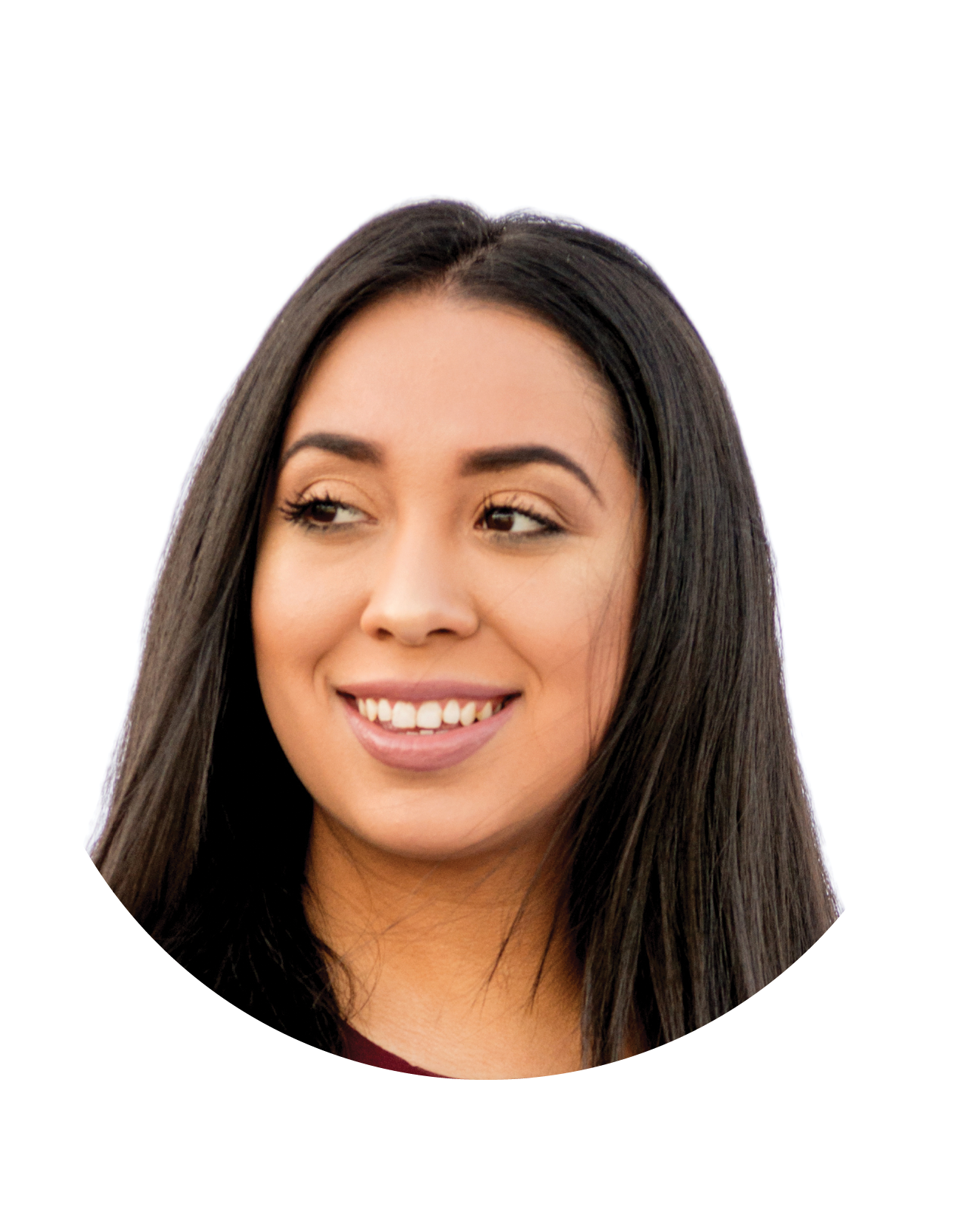 Meet Angelica
9th Wave alumna Angelica earned her BS from Santa Clara University and her MPH from UCLA. She has returned to Richmond where she serves as the adult leaders coordinator at the nonprofit YES Nature to Neighborhoods.
Making Waves Academy Campus Expansion
"Our beautiful, 21st century campus challenges us to meet the high expectations for teaching and learning that a facility of this quality and vision demands of us. We should expect nothing less than excellence, allowing our Wave-Makers to utilize their education, skills, and ambition to realize their hopes, dreams, and goals for themselves."
Alton B. Nelson, Jr.
Chief Executive Officer
Making Waves Academy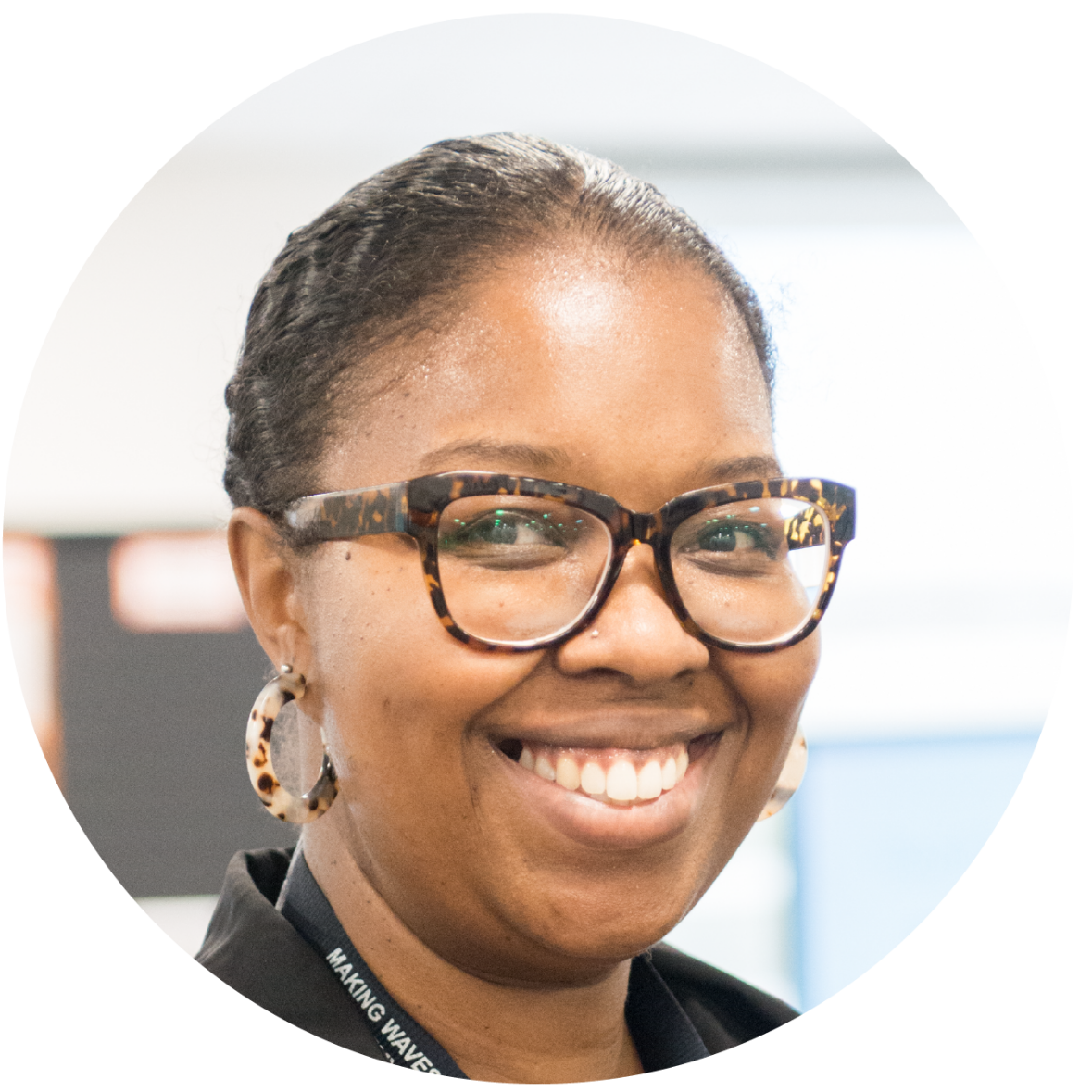 "Today, these structures pulsate with teaching, learning, and laughter every day. But our expansion is more than just this physical structure. This expansion is a reminder of why we are here. We are charged with harnessing our collective genius to close the opportunity gap for our students. We are responsible for encouraging our students to imagine and reimagine their right to dream. These facilities are a daily reminder to be stewards of our mission and vision."
---
Ms. Harper-Cotton
Lead Humanities Teacher at Making Waves Academy
2018-19 Unaudited
Financial Summary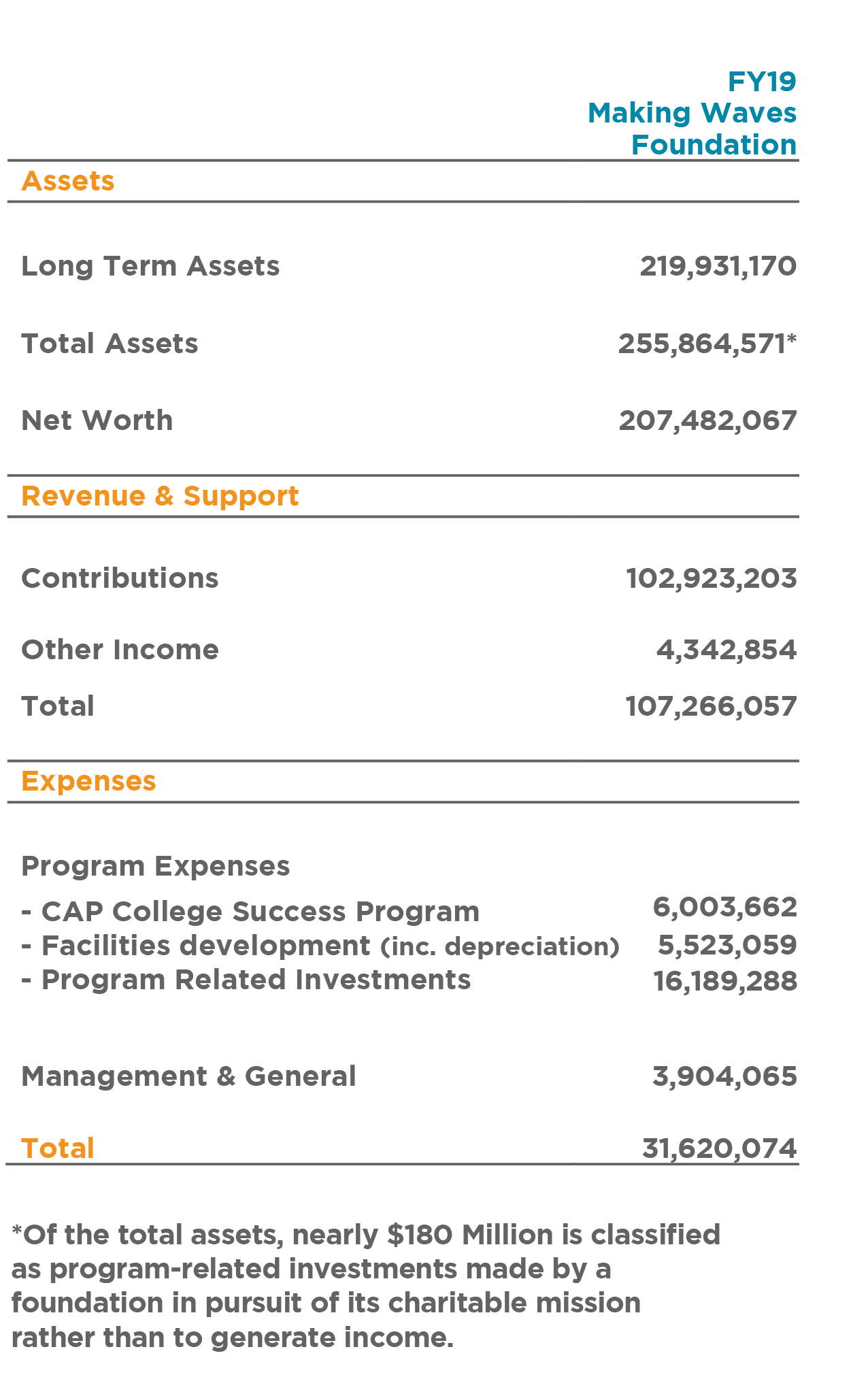 Financial Summary
Thanks to the generosity of longtime champions of equity, Making Waves Foundation (the Foundation) was able to devote significant resources to the construction of Making Waves Academy's expanded middle and upper school campus. On August 22, 2019, the new 20-acre state-of-the-art campus opened for classes. Final construction costs were held in restricted assets during FY19 to be spent in the future. Construction will continue on specific aspects of the campus throughout FY20, including the completion of the upper school gymnasium and play field.

The expenses related to the development, construction, and maintenance of MWA facilities, including depreciation, are ongoing operating expenses. This and CAP, our college success program, form the core programming of the Foundation. CAP has grown to serve nearly 700 college students with one-on-one coaching, financial services support, and need-based scholarships. In addition, the facilities owned, operated, and leased to Making Waves Academy now educate more than 1,000 students annually.

The Foundation's assets include real estate holdings—some of which are intended for operations and others for the exploration of facilities growth for Making Waves Academy in Contra Costa County. No public funds have been used to finance the Making Waves Academy expansion.
Board of Directors
John H. Scully
Chair and Co-Founder, Making Waves Foundation; Founding Partner, SPO Partners & Co.
Ronald A. Cohan
Consulting Counsel, IGT
Phil Gordon
Partner, Perkins Coie LLP
Ajani Jackson, M.D.
Adult, Adolescent, and Child Psychiatrist
Sidney Landman
Financial and Business Management Consultant, Landman Consulting
Alicia Malet Klein
GATE Instructor, Coleman School; President, HeadsUp Public Education Foundation;
Board President, Making Waves Academy
Regina K. Scully
Philanthropist, Filmmaker, Founder, and CEO, Artemis Rising Foundation
Jonathan Stern
CEO, SnapStrat
Eli Weinberg
Chief Investment Officer, SPO Partners & Co.
Michael B. Yuen
Partner, Isabella Partners
Patrick O'Donnell - Chief Executive Officer
Elaine Clark - Chief Financial Officer
Darcy Deming - Chief Advancement Officer
Melissa Fries - Executive Director, CAP
Jerold Ligons - Vice President of Property Management and Facilities
John Scheidt - Vice President of Human Resources
Ronald A. Cohan
Consulting Counsel, IGT
Suzanne Duca
Board of Directors, La Centra Sumerlin Foundation
Dr. Esther Hugo
Adjunct Faculty, CSU College of Education and UCLA; Coordinator,
UCLA College Counseling Certificate Program; Education Consultant
Ron Nahas
Partner, Rafanelli and Nahas LLP
Cindi Nicolas
Managing Director, Slalom Consulting
Melissa Fries - Executive Director
Ann Helfman - Director of Operations
Ivette Chavez - Director of Financial Services
May Melehan - Director of Coaching Services
Your donation will
make a difference
Help historically underrepresented and underserved students
achieve college access and success by supporting our work!